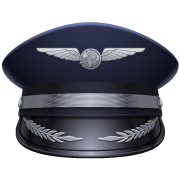 It's Here! Introducing APDL 8

---
The Best FAR 117 Airline Pilot Logbook App EVER!

90 DAY FREE TRIAL
APDL is the one and only FAR 117 airline pilot logbook app you'll ever need. Pilot logbook, comprehensive up to the minute legality with complete FAR 117 adoption, duty management, crew tracking, schedule importing, automatic resume generation and much more. Export flights to Logbook Pro via the APDL.net cloud portal for advanced logbook management.

Legality is the core of APDL as the app continually monitors your legality with all required facets as set forth by the FAA. Color coded interactive legality indicators are positioned throughout the app to give you a quick reference to your legality status using green, yellow, and red indicators. Tap legality indicators to view legality issues at a glance. APDL integrates directly with native iOS at its core to provide you notifications on your screen even when APDL is not running. APDL doesn't just do a quick "today" check as other apps offer which may be limited and inaccurate but instead a full and comprehensive calculation of all required elements as set forth by the reg including acclimation, WOCL, required rest, lookback, and future duty.

APDL includes a "WHAT-IF" calculator to allow you to enter variables based on schedule changes to dynamically recalculate legality based on input conditions. Use the WHAT-IF calculator to help you make better decisions in response to changes in duty such as weather or ramp delays.
Calendar Style Views
Just like your iOS calendar app APDL presents information in two monthly views. A "Calendar" style view and a list style "Schedule" view are available to show your scheduled duty color coded with legality status. The monthly views are interactive allowing you to view or add duty periods with ease.
Customizable Status Board
Configure your own status board by adding or removing widgets to show information as you need it based on various phases of flight. View your legality, cumulative limits, gate information, sunrise/sunset data, current flight status, weather, FAA alerts such as airport delays and ground stops, hotel information, and more. Widgets are interactive allowing you to quickly edit your leg as you fly, view legality, etc. A one stop information hub - a favorite part of APDL for many users.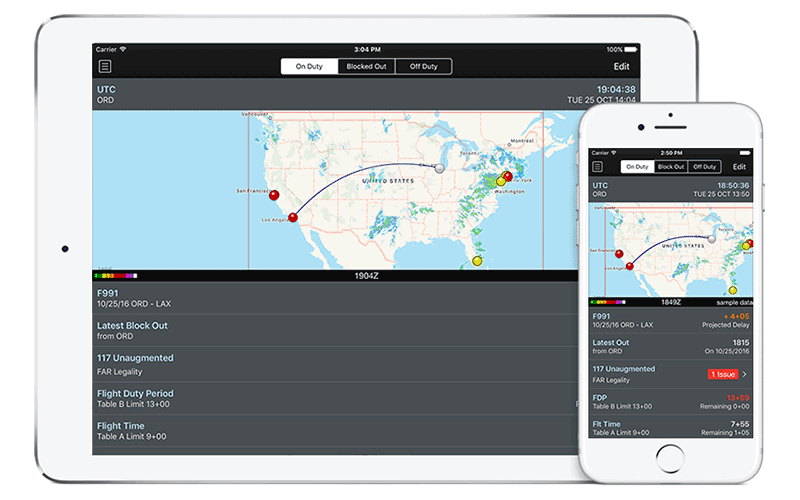 Familiar Trip Sheet Layout
Airline pilots live off of the "trip sheet" layout and that's how we designed the interface for APDL -- quick understandable compact information of your entire trip in a single presentation. The "Trip View" offers a running dialog of your trip spanning the required duty periods and days. The trip sheet is interactive, tap a leg to quickly access the editor and make any edits as needed. Trip Views are also color coded based on scheduled vs. actual vs. completed and closed. APDL offers data protection by locking completed legs to avoid unintended edits to ensure an accurate legality computation at all times. View gate info, ground/turn times, block, credit, hotel, over/under block deltas, and more and even tap to call your hotel directly from the trip view.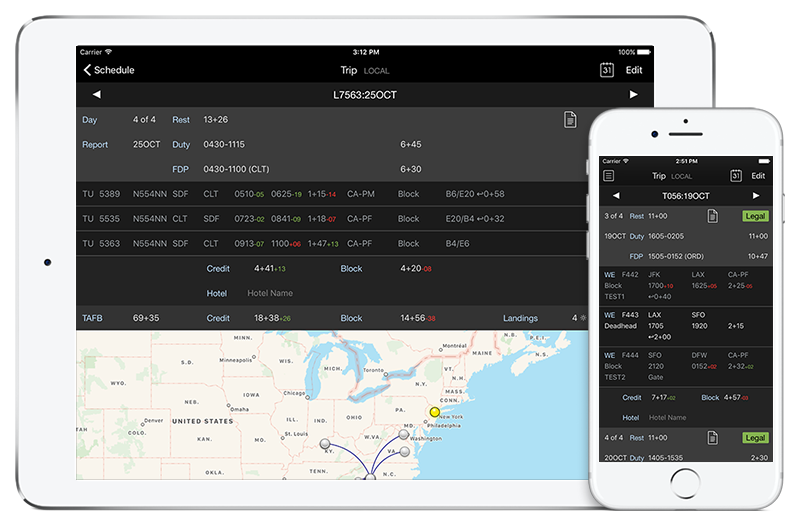 Alerts & Notifications
APDL brings information to you in various ways both within the app as well as tight integration with iOS and Notification Center even while the app is not running. You'll even get notifications on your Apple Watch if using one. Alerts include legality status, gate changes, aircraft changes, hotel departure (van/shuttle), and more. Alerts are color coded for priority and show in the menu, alerts view, and throughout the app in color coded markers called "lozenges."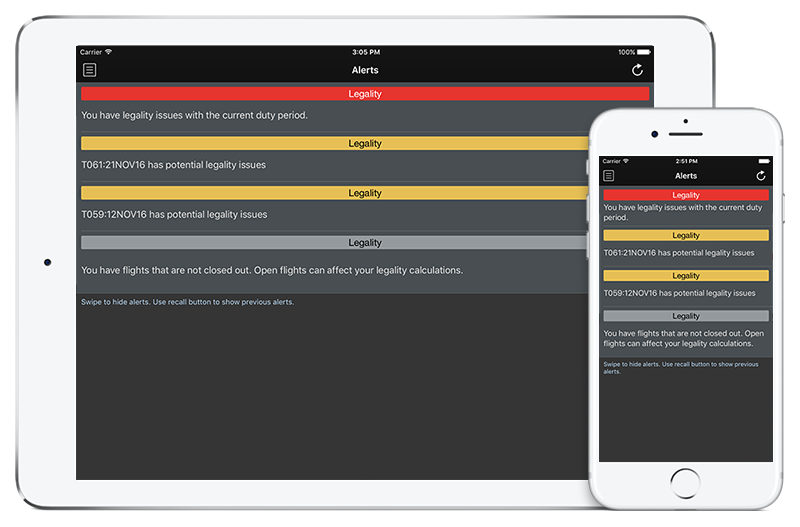 Data Everywhere - Cloud Sync with Data Backup
APDL uses NC Software's high speed secure encrypted enterprise synchronization system for fast and reliable data everywhere synchronization across all of your participating devices. As APDL is licensed "per user" you can use all of your iOS devices as desired. APDL does not use any third party synchronization such as Apple's iCloud which has proven unreliable for apps that depend on it for data synchronization. NC Software owns and operates its network infrastructure ensuring maximum up time and reliability taking the worry out of synchronization. With data everywhere synchronization we also include data backup as part of the APDL system allowing a data restore capability should the need arise.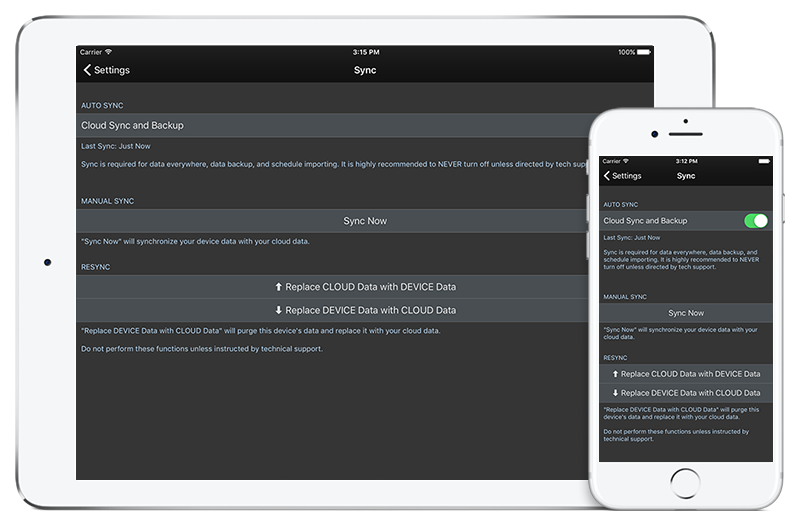 Powerful Schedule Importing with new APDL Toolkit
NC Software's powerful and flexible schedule importer is included with the APDL system along with access to APDL.net - your own dedicated airline pilot portal. With the new APDL Toolkit support you can paste in trips within the app or use direct APDL integration within the Safari browser via the share button which will interact with the schedule page you bring into view such as your trip data. Process trip data, view modifications APDL will present in the app or on APDL.net and instantly save to your APDL data seamlessly and effortlessly. Tap "Import Trips" then APDL Toolkit to learn more and setup your device(s).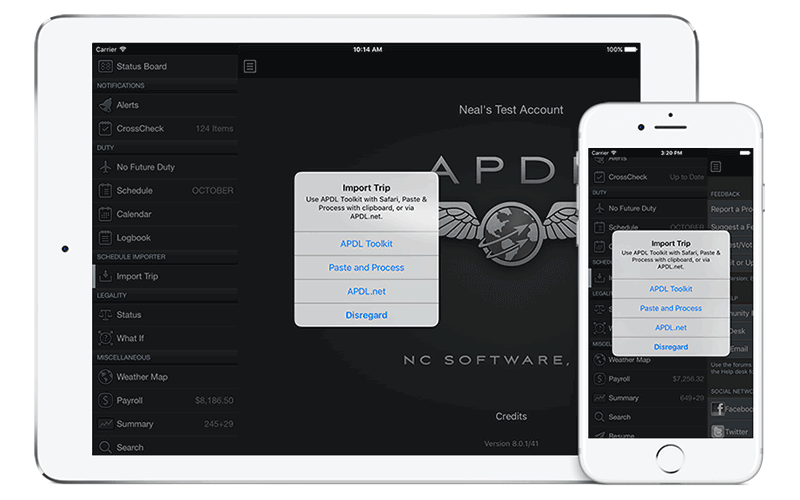 Automated Logging with Night Calcs
APDL has an auto-logging feature called AutoFILL which uses our cloud partner resources to automatically pull in OOOI times as well as airports, aircraft, and gate information. Preload your leg with a Flight Number, Departure Field, and Scheduled Out and APDL can log your entire flight for you once you land. Simply open APDL and APDL will find your incomplete flights and poll the cloud for the information to auto-log it for you. APDL also automatically identifies your eligible night flying time and can determine the night time to enter for you automatically as optioned in the settings area. Add your Instrument time and you're done. Other advanced features such as AutoForward will advance crew, tails, etc. to the next leg when you land and update the current flight. We use automation to make logging your flights as accurate and seamless as possible all with total control in the app's extensive settings area. We also realize timely gate information is important to you and going out of your way to find a monitor in a terminal isn't always ideal. APDL continually looks for gate information and will notify you of any terminal and gate changes as well as log the gates for your view in the Status Board or directly in the Leg editor. APDL takes the work out of keeping up with information and works for you to make your job easier.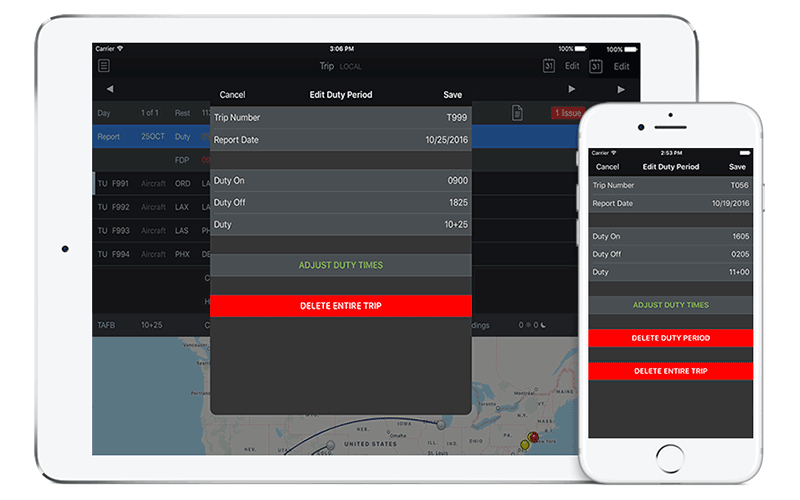 Pay, Summary, On-Time Performance, More...
APDL is a complete red-book replacement tracking your duty, pay, and rest with all the facets as required by FAR 117. Use the interactive charts to analyze your information per your requirements. With the continually monitoring legality engine, duty and rest are evaluated and computed for you to ensure complete compliance without any complex math on your part.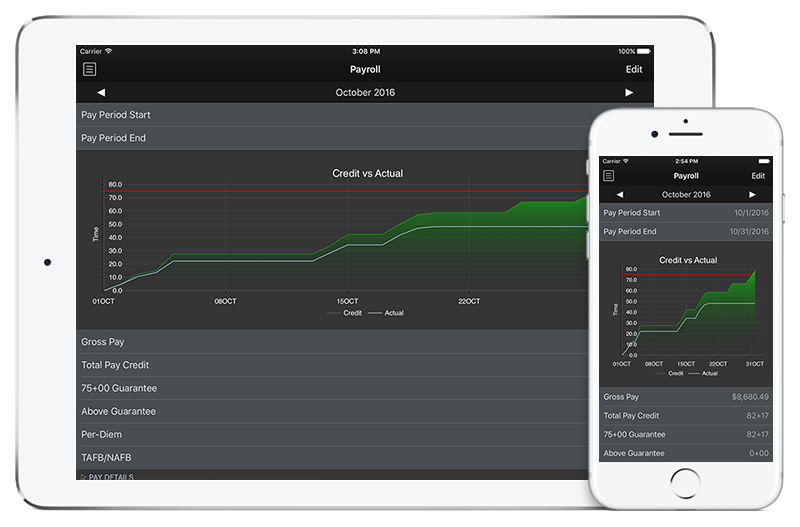 Generate Resumes
APDL has your logbook information and, combined with your inputs in the Settings/Resume area, APDL can generate resumes in various formats for you automatically. You never know when the need may come that you face an interview once again, but don't worry as APDL can help you. Export resumes for printing or sending directly to someone such as while at a job fair and you have the interest of a prospective employer.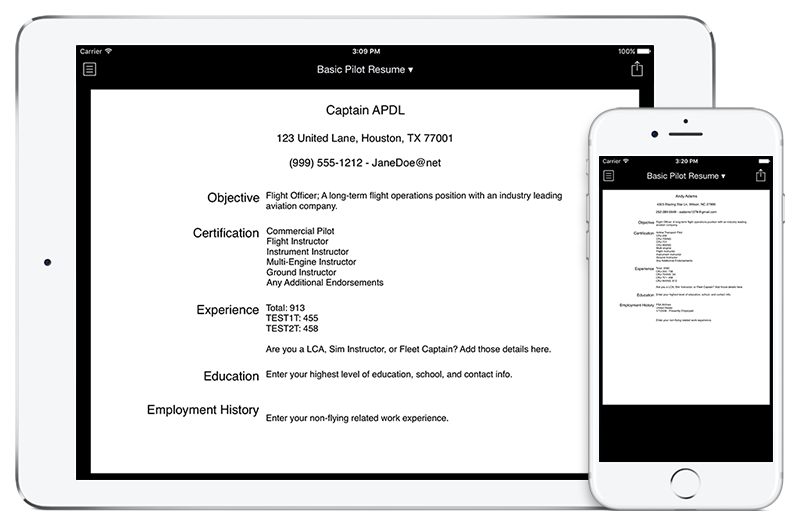 Complete and Interactive Logbook
APDL takes advantage of screen real-estate depending if the device is an iPad or iPhone/iPod touch. The iPad gains an additional "Logbook" system but both device layouts offer full inputs to track every facet you can imagine for your logbook needs. Track your payroll, flight times, aircraft, crew, hotel information, notes, and more with a complete airport database included. Even view the gates and sun data for each leg in the leg notes area. APDL synchronizes directly with your iOS calendar if desired to keep your schedule available on a calendar which can be shared with family members or for quick reference and reminder alerts.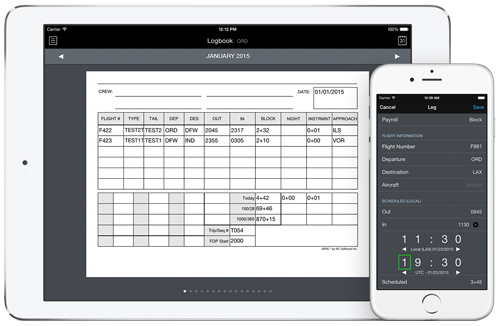 Interactive Charts and Much Much More
APDL includes various areas to view pertinent information such as Productivity Forecast, Pay, and other Summary views. Adjustable date ranges allow data to be filtered as you need it to query your logbook data in any way imaginable.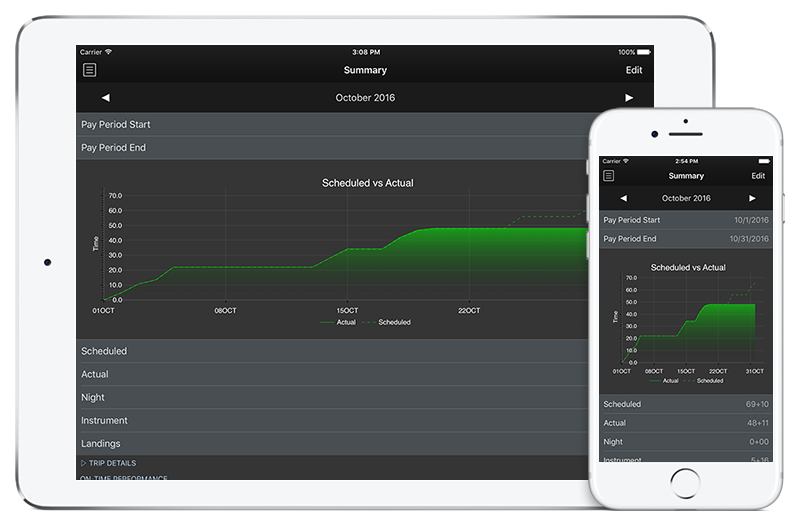 Try it Now - FREE for 90 Days
We know you will love APDL once you let it work for you so we want you to try it out for a

full 90 days - FREE

. Use it, love it, see what it can do for you without spending a dime. Explore all features of APDL throughout your entire bidding cycle. Use the included schedule importer and learn how APDL helps you with all aspects as described above as well as in the complete documentation available online. We spent three years developing APDL with an entire year in testing with over 60 of your peer airline pilots ensuring the highest quality and absolute best possible FAR 117 app bar none. Join in with your peers on the community forums to discuss use of APDL for your contract requirements, ask questions, and even help others. Download APDL for your iOS device today and automatically start your 90 day free trial - we know you'll love it.

90 DAY FREE TRIAL
APDL® is a registered trademark of NC Software, Inc.
All other trademarks or registered trademarks are property of their respective owners
APDL Export now available on APDL.net
Sign in with your NC Software account to start your FREE 90 Day Trial
If you're already in an Airline Schedule Importer subscription, when purchasing APDL the balance will be transferred and applied towards your APDL subscription.
Requirements: iPhone, iPod touch, or iPad running iOS 9.1 and later
Give this link to a friend:

http://nc-software.com/apdl

For volume purchase discounts please contact Enterprise Sales